If you're using a version of WordPress 5.0 or newer, you may have noticed that there is a new kid on the 'blocks' – Yes pun intended. You'll have noticed something far different inside of your editor. So, what are WordPress blocks? How do they change the way you edit content? And how do you go about using them?
Blocks are the new way to edit and organize your content within the WordPress environment, your blog posts, pages and the custom post will all use them and allow you to add content within the editable area.
If you go to your WordPress dashboard and proceed to create a new post or page, you'll see a new editing panel that is now block-based instead of that old ugly WYSIWYG area. Fantastic!
WordPress's new block-based editor ( Gutten Berg ) makes the experience far more distraction-free, as well as much more streamlined allowing you to add content quicker and easier than ever before. Why? Because what you see now is the main canvas for your editing and no other unnecessary elements that aren't related to your content.
How to use these blocks.
When you begin working on a new blog post or page, each piece of content you want to include — such as a paragraph of text or an image — will be converted into a block.
Think of a block as a neat wrapper around any given piece of content on the page. However, the fact that it's indeed a block doesn't change anything concerning the content itself. A paragraph of text is still a paragraph of text.
Using blocks is very intuitive. As soon as you begin working on a new post or page, WordPress will invite you to start writing text or choose a block type.
When you're done typing a paragraph, just press enter on your keyboard and WordPress will transition you to the next block. And so on.
To add a block other than a paragraph of text, click on the '+' icon, which you'll find in the upper-left corner of the block editor (see the screenshot above).
Depending on the type of block you choose, you'll be able to customize it in a number of ways — all to make it look exactly how you want. Here's what you can do with the heading block, for example: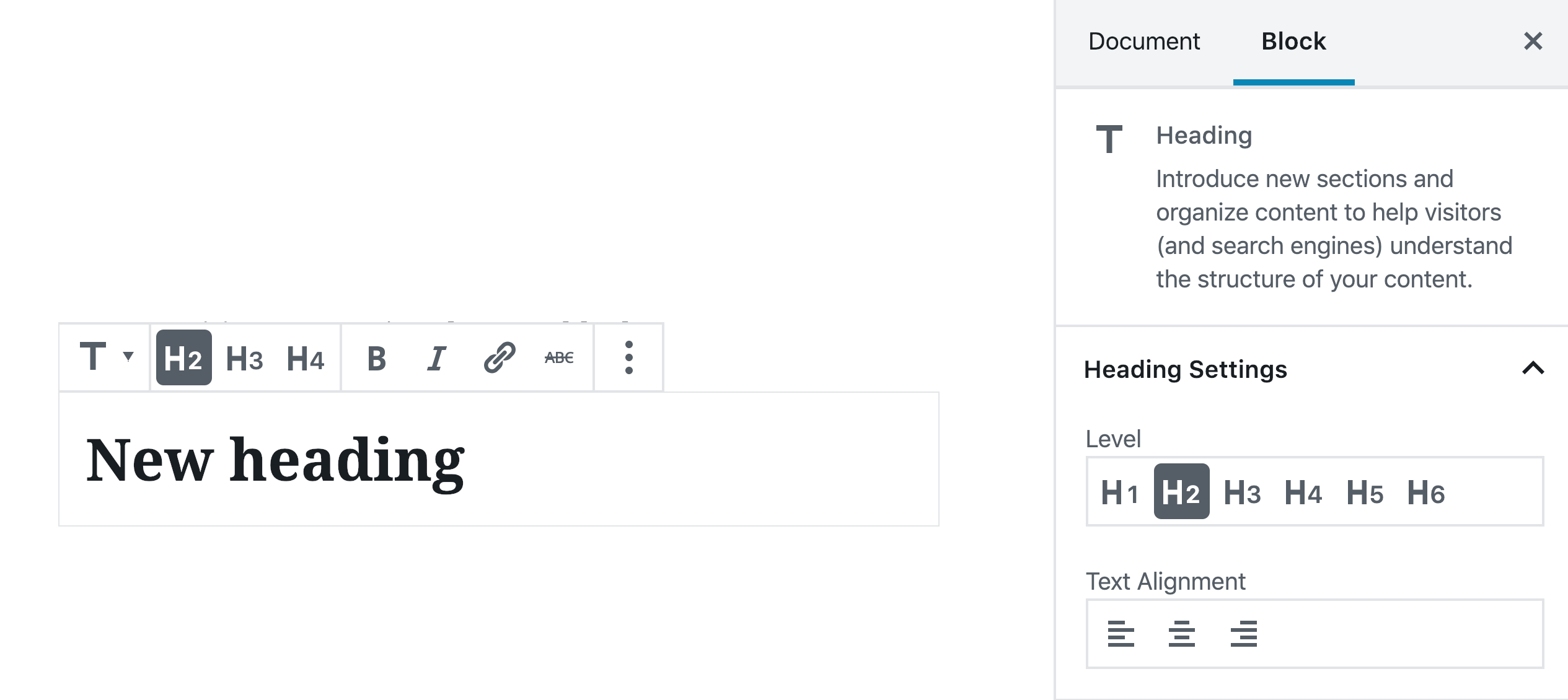 Introducing this block wrapper has a range of benefits. Chief among them is the fact that you can rearrange blocks much more easily than you could with the previous editor.
Each block has controls for moving it one spot up or down, and also supports drag and drop when you click and hold onto the icon in the middle of those two arrows.
Previously, to move content around within a blog post, you needed to cut and paste it in place. This often resulted in various formatting issues (depending on the text editor you were using), or whole sections of content getting lost whenever you erased your clipboard by accident. The new blocks don't suffer from those issues, and are much more maneuverable.
Do Blocks Change the Way Readers See Content on My Site?
No. The sole fact of blocks being there doesn't impact the way in which your visitors see the content of your posts or pages.
Blocks are invisible to your visitors. They're only a tool for you — you get to use them when working on posts or pages inside the WordPress dashboard. On the front end of your site, blocks are completely transparent.
What WordPress Blocks Are Available?
Apart from paragraphs of text, you can also use a range of other blocks.Here are the blocks included in WordPress 5.2 out of the box. At aware we also offer custom built blocks allowing for better SEO.
What if I want my old editor back?
If you want to get the old editor back ( for some odd reason?) you still can. Install a plugin aptly named Classic Editor.
After activating it, go into Settings → Writing and select your preferred settings:
If you select 'Allow users to switch editors: Yes', then you'll be able to decide whether you want to use the new block editor or the old classic editor on a per-post basis.
I really encourage you to give WordPress blocks a chance and experiment with the new editor when creating content for your blog. See how easy it is, even if all you're doing is just typing, adding new paragraphs, images.
Need help with your current Web Site?
If you're not currently with aware but need help with your current website, let's talk. Whether it's digital marketing, Web updates, security enhancements or UX.
Our team of digital experts can audit your current platform and advise of the next best steps for your business needs.